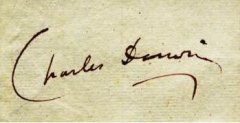 Taxidermy4Cash.com
Darwin's signature, not rare but a personal touch.
Charles Robert Darwin was born at Shrewsbury, England, in 1809, the son of a well-to-do doctor. His mother died in 1817 when Charles was eight years old. In the following year he was sent to Shrewsbury School, where, to all accounts he was below average in all his subjects. Despite this failure to shine academically at school, as a young child Darwin developed an interest in the natural world becoming a keen collector of bird's eggs, insects and preserved fossils. From 1825 to 1827 Darwin went to Edinburgh University to follow the family tradition and train as a doctor. !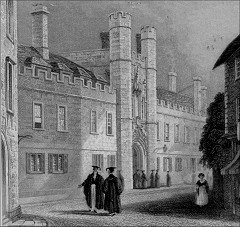 er evolutionist, sixteen years his senior, (a man who stimulated his interest in rocks and fossils) he gained invaluable knowledge and experience by attending lectures on biology, zoology and chemistry, and learned the skills of taxidermy. Christ's College, Cambridge as Darwin would have known it
Deciding to become a clergyman in the Established Church, Darwin, in 1828, went to study theology at Christ College, Cambridge. While at the university with the encouragement of Adam Sedgewick, the famous professor of Geology from Dent near Sedbergh and Professor John Henslow, he continued to develop his hobbies in geology and botany. Earlier picture of Charles Darwin aged about 62
Victorian Common Gull by Shopland of Torquay. Case now returned from the recent Andy Henry dispersal.