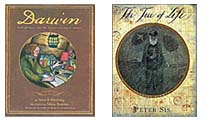 Teaching evolution lesson plans at the elementary level is certainly a challenge. Children have a difficult time comprehending such vast expanses of time. Indeed, the year between their birthdays often feels like an eternity! Adults have a hard time large periods of time, so it is not surprising that
this is extra challenging for childre who cannot think as abstractly. However, many science education experts advocate for at least some early exposure to evolution concepts, arguing that this can greatly help their scientific understanding as their education progresses.
Of course, teaching about evolution is also quite controversial, as it can butt up against the closely held beliefs of many people. Therefore, teachers must teach this subject with clarity and sensitivity. We feel the books below do an excellent job of educating, not persuading.

Life on Earth: The Story of Evolution
by Steve Jenkins What it's about
Stunning cut and torn paper collages fill the pages of this well written large-format introduction to evolution. Jenkins poses and then answers questions on topics like survival of the fittest, mutation, and extinction-- challenging subjects to be sure, but Jenkins presents them "with a clarity that demonstrates his mindful- ness of the audience."
(PW) SLJ called this book "a polished exposition of a difficult, often controversial scientific concept." And PW ended its review by calling the book "science at its most inviting."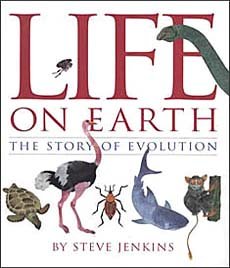 Reading levels
Interest Level: K-Gr. 4 DRA Level: 40
Difficulty Level: age 4-8 Lexile Measure: 810L
Awards and Rating
Average Amazon Rating: (14 reviews)
Who Was Charles Darwin?
by Deborah Hopkinson; illustrated by Nancy Harrison
See inside / buy from Amazon
What it's about
This entry in the popular "Who Was...?" series presents a kid-friendly introduction to the life and passions of Charles Darwin, who hated school as a child and often found daydreaming of his real love: the natural world.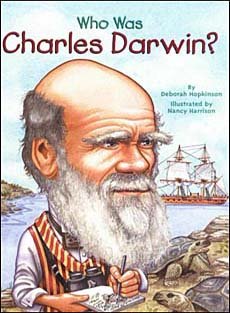 and about how his many discoveries along the coastlines of Africa, South America, and the Galapagos Islands led to his groundbreaking ideas. Hopkinson's text is readable, engaging, and paired with a generous amount of illustrations. This wouldn't be our top choice in this category, but it is a fine option if you'd like to emphasize Darwin's passion and talents.
Reading levels
Interest Level: Grade 2-5 DRA Level: not available
Difficulty Level: age 7+ Lexile Measure: 760L Awards and Rating
Average Amazon Rating:(10 reviews)
The Tree of Life: Charles Darwin
by Peter Sis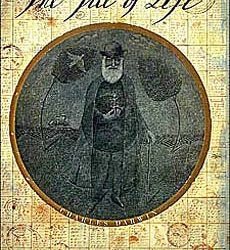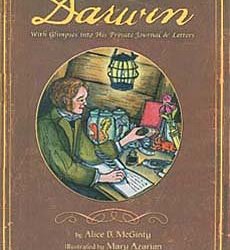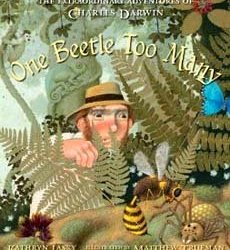 See also: