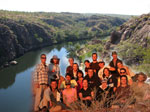 Field based units
The unique landscapes from arid central Australia to the tropical savannas in the north, are explored through an intensive 11-day field school that begins in Alice Springs and finishes in Darwin. Land management issues including fire, weeds, and water resources are considered within the context of the landscape processes and ecology of each region.
Offered for the first time in late-2009, this exciting unit involves a two-week field trip to eastern Indonesia, to investigate food and water resources in a village in West Timor.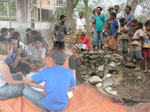 >
Bare Sand Island Sea Turtle Research Field Camp
The annual Bare Sand Island Sea Turtle Research Field Camp is open to all volunteers from CDU and from outside organisations and the general public. Participation in the field work is geared to the individual's capabilities, previous experience and expectations.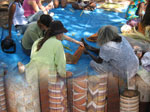 Download the transcript (PDF 41kb)
This five-day intensive unit is available to post graduate students and professionals. Using a mix of lectures, field experience and case studies from Australia and internationally, this course will give participants a deeper understanding of the skills required to participate in a diverse range of conservation, commercial and cultural enterprises.
Download the Personal and Professional Development enrolment and tax invoice form (doc 157kb)
Units with significant field components
This unit involves locating individual students, in the second half of their degree, within industry. A placement may involve laboratory or field work. Previous placements have included field work involving sea turtle monitoring, freshwater stream monitoring, aquatic and terrestrial invertebrate surveys, and vegetation measurement and mapping.